Fire breaks out at underconstruction Navy warship
印度海军一艘在建军舰起火
MUMBAI: A major fire broke out at an underconstruction warship of the Navy at Mazgaon Dockyard here on Friday evening and one person was suspected to be trapped inside, a senior city fire brigade official said.
孟买:一名消防官员称,周五晚上,马扎冈造船厂一艘在建军舰发生大火,一人被困其中。
"Under-construction warship 'Visakhapatnam' caught fire at 5.44 pm. The blaze erupted on the second deck of the ship," said P S Rahangdale, the chief of city fire brigade.
城市消防队队长P S Rahangdale称:"正在建造中的'维萨卡帕特南'级军舰于下午5时44分起火。起火点位于该军舰的二层甲板上。"
Eight fire-fighting engines, along with quick-response vehicle, have been pressed into service to extinguish the blaze, he said.
消防队已派遣8辆消防车和一辆快速反应车扑灭大火。
"Fire is confined to second and third deck of the warship. Fire-fighting operation is underway along with Dockyard fire-fighters. Smoke has spread in the warship. We suspect that one person is trapped inside," Rahangdale said.
Rahangdale称:"火势仅限于军舰的第二和第三层甲板。船厂的消防队员也参与了灭火行动。烟已在军舰上蔓延。我们怀疑有一个人被困在里面。"
"The cause of the fire will be ascertained after a proper inquiry, but the first priority is to douse the fire with a minimum loss," another fire brigade official said.
另一名消防队官员表示:"火灾原因将在调查后确定,目前首要任务是灭火,将损失减到最小"
Mazgaon Dockyard is the only facility in India having capability to build sub-marines. Visakhapatnam, the largest warship of its class, was unveiled for construction in Mazgaon Docks in April 2015.
马扎冈造船厂是印度唯一有能力建造潜艇的造船厂。
It is the first of the four stealth guided missile destroyers to be built under Project 15-B Class.
起火的这艘军舰是四艘隐身导弹驱逐舰中的首艘,按照15-B级建造。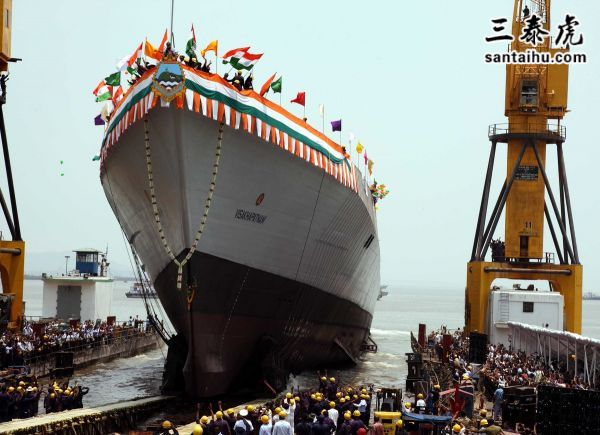 "维沙卡帕特南"号驱逐舰(法新社资料图片)
印度时报读者的评论:
译文来源:三泰虎 http://www.gremelin.com/47887.html 译者:Jessica.Wu
外文:https://timesofindia.indiatimes.com
Nation First• Others • 1 day ago
Why fire always loves Indian Navy?
为什么印度海军老是发生火灾?
Art Tweeter• 1 day ago
Possible reasons: 1) Sabotage by supplier or parties who could monetarily profit by it 2) by foreign powers who want to delay or prevent induction of new weapons 3) poor infrastructure and training over decades while Con-gress looted the treasury
可能的原因有:
1)供应商或相关方蓄意破坏,从而可以从中获利;
2)外国势力想要拖延或阻止印度新武器的制造进程;
3) 国大党耗尽国库,数十年来印度的基础设施质量差、人员训练不足
Pbch Chowdhuri• India • 1 day ago
Sabotage?
人为蓄意放火?
INS fire power • INS • 1 day ago
India Navy displays fire power even under construction. Imagine its fire power when finished.
印度海军在建造军舰过程中就展示"火力"了。想象一下完工后的火力会有多猛。
Kalmokta Banchanbali• University of Medaram • 1 day ago
Fire power means OTHERS should burn .. Not yourself
咬展示火力,也是让目标起火,不是燃烧自己
INS fire power • 15 hours ago
Sorry, my humble ignorance for not knowing enough Indi-lish, but you obviously don''t know Indian Navy
你显然不了解印度海军
Girish• USA • 1 day ago
It is not under the Indian Navy yet, you fool !!!
蠢货,这艘军舰还没在印度海军服役呢!
tvenak B• US • 1 day ago
There is something fundamentally wrong with Indian workers. THEY DON''T HAVE PRIDE AND INTEREST IN THEIR WORK. They are only interested in agitating for more money and less work. It is rather sad. On the other hand Mr. Modi is pushing "Make in India". Good luck with that!
印度工人对自己的工作没有兴趣,没有自豪感。想多拿钱,少干活。这是相当悲哀的。另一方面,莫迪正在推动"印度制造",祝好运!
Abc• India • 1 day ago
poor quality of infrastructure and manpower training responsible for most fatalities in navy or airforce.
造成印度海军和印度空军人员伤亡的原因,多半是基础设施质量差,人员缺乏培训。
Nationalist• 1 day ago
Sabotage by insider traitors.
有内奸蓄意纵火
bhartiya singh• 1 day ago
Is the fire accidental or handi work of ISI agent. Lot many private contractors are working at MDL without proper background verification by our CID / IB. Some of these private contractors employ casual labours recruited from dubious anti national sources. SABOTAGE CAN NOT BE RULED OUT AND NIA MUST INVESTIGATE. Security checks at MDL is very poor though its premiere defence shipyard of the country. MOD MUST LOOK INTO THE FIRE INCIDENT VERY SERIOUSLY.
是意外起火还是巴基斯坦特工放的火?许多私人承包商在马扎冈造船厂工作,而且没有经过适当的背景核查。其中一些私人承包商雇佣的临时工很可疑,有可能是反国家分子。不能排除蓄意纵火,情报局必须好好调查。马扎冈造船厂的安全检查做得太不到位了,尽管它是印度首屈一指的国防造船厂。印度国防部应认真调查这起火灾。
Shaun Xalin• 1 day ago
are indian navy officials working for pakistani ISI?
是否有印度海军官员为巴基斯坦三军情报局效力?
JJ Canada• Canada • 1 day ago
Why does this happen on regular basis?? definitely not because of congress, then what is the cause?? Is there some one who is able to take responsibility or if questioned, will he be condemned as desh drohi??
为什么这经常发生起火事故?
当然不能 怪国大党,那原因是什么呢?
有人对此负责吗?
Art Tweeter• 1 day ago
Its a legacy of Con-gress to underfund, poorly train, and not repair infra. Why? Since they loot the treasury
这是国大党造成的遗留问题,即资金不足、培训不力、基础设施未妥善维护。
HSF• Australia • 1 day ago
Blind P1dis will come barking, how BJP government correct mistakes of 66 years in 5 years ? How much mess BJP can clear in 5 years ?
人民党政府如何在5年内纠正过去66年积累的错误?
人民党在5年内能收拾多少烂摊子?
Godfather Senior• Mumbai • 1 day ago
I suspect a deliberate foul play and someone blacksheep inside working for the enemies across the borders, through enemies within. This is not the first time where fire breaks out concerning naval properties. A thorough inquiry will reveal the cause but not the person who caused it! NDA government needs to be very careful in recruiting personnel for such sensitive jobs and to be absorbed after a thorough vetting.
我怀疑这是蓄意纵火,有内奸为敌方效力。印度海军并不是第一次发生火灾。一项彻底的调查将揭示原因!
人民党政府在招聘此类敏感职位的人员时需要非常谨慎,在经过彻底审查后才能录用。
Shyama Prasad Dhar• 1 day ago
It is surprising that since last few months in Mazgaon Dock, Mumbai & in the Arabian sea Indian Navy Ships & Submarines are the victims of fire! It seems some insiders or contract workers in collaboration with Pakistani Terrorists are involved. Earlier such incidencees like fire was never herd as there was no contract workers or contractors.
令人惊讶的是,最近几个月以来,孟买马扎冈码头、阿拉伯海的印度海军舰艇和潜艇接连发生火灾!
可能有一些内部人士与巴基斯坦恐怖分子合作,合同工也有嫌疑。此前,从未发生过火灾,以前没有用合同工
Jose Indian• 1 day ago
Iaf and indian loses more people due to poor safety record .The enemy for them is not pak but poor safety record.
印度空军因为安全记录不佳而损兵折将,他们的敌人不是巴基斯坦,而是不良的安全记录。
ps murthy• Ingeku • 1 day ago
Fire breaking out too frequently in summer.
夏天火灾太频繁了。
Dr Neeraj Tripathi• 1 day ago
Quick detailed investigation must and guilty people must get capital punishment
尽快进行详细调查,有罪的人判死刑
Sanjoy Pandey• Kolkata • 1 day ago
A probe should be conducted to find out the reasons of the fire and possibility of any Pakistani Agent''s hand.
应该进行调查,找出起火的原因,看看有没有巴基斯坦特工参与其中。
Suresh Rajan • Nazirabad • 1 day ago
why are there so many issues with the navy''s assets these days ? this needs to be investigated thoroughly
为什么现在印度海军出了这么多事故? 应彻底调查
Kalmokta Banchanbali • University of Medaram • 1 day ago
Four years and you are still building it ???!!!!!! It is almost 5 years to be precise
造了四年了,还没造好??!!准确地说,差不多造了5年了
Akash Sharma • 1 day ago
whose carelessnes it show
是谁那么粗心大意
gopi b • 1 day ago
Yes sabotage, need thorough investigation
是蓄意破坏,彻底调查吧
vijay thommandra• 1 day ago
Fires in crucial places and very frequent loss of planes is sure sign of something manmade happenings. A serious investigation must be made.
重要场所频频起火,飞机频繁失事,这些无疑是人为造成的。必须严肃调查。